What caught my eyes the first time I bump into her blog was her banner!!! I said to myself, the owner really has a sense of art and creativity! I had a hard time figuring out what banner to post in my blog and I have various layouts (which I made) that didn't pass my own criteria. (sigh) I hope I have a web banner as lovely as hers! :) Seriously, I envy your creativity
Syry
.
Aside from her banner, when I saw her signature, I said to myself, Oh-La-La! This one's sexy! I want to have the same sexy signature for my blog too! LOL! I give Syry and her blog two thumbs up for her creativity! :)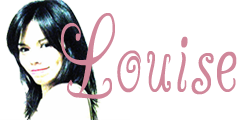 This girl I'm talking about also have a giveaway contest for her followers ritght now. You can join her giveaway contest
here
or by clicking on the picture below. Her contest runs until April 1, 2011. :)
Lots of Love!